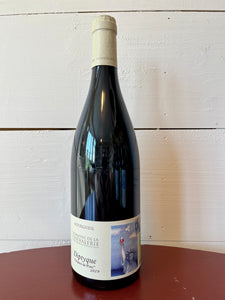 Grower: Domaine de la Chevalerie
Region: Loire, France
Grape Varieties: Cabernet Franc
Viticulture: Biodynamic
Category: Red
Size: 750ml
Domaine de la Chevalerie is above all a story about a family who have had their roots here since 1640. A story of men and women, vineyards, cabernet franc and especially of love.
Unconditional love for a land that has seen its children grow up, but especially for a soil that never ceases to surprise us with its ability to support the development of a plant with unique fruits, pure testimony of a terroir and the bounty of Mother Nature.
Thirteen generations later and the adventure continues with us, Laurie, Emmanuel and Stéphanie Caslot, siblings united in taking care of this magnificent domain of 33 hectares and to continue, passionately, the family tradition in the footsteps of our father, Pierre. Custodians of a history, of a style and a heritage, the three of us are committed to conveying our pleasure in wine every day and with the greatest respect for nature.