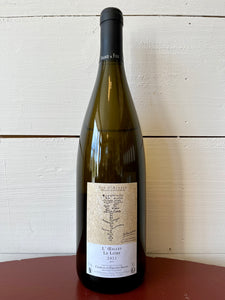 Producer: Domaine Brand
Region: Alsace, France
Varietals: 100% Pinot Blanc
Viticulture:  Biodynamic
Category: White Wine
Size: 1L bottle 
This is a 1 litre bottle of direct press Pinot Blanc. Aged for 18 months in wooden casks. A wonderful expression Pinot Blanc with some oxidized, nutty, honey vibes on the palate, this wine still keeps a lot of freshness with it's well balanced acidity. It is medium bodied. 
In 2006, winemaker Philippe joined forces with his father, bringing a fresh burst of energy to their business and brought a new life to the vinification practices from his experiences in Burgundy at Domaine de Montchovet, in Greece on Peloponnese Island, and in Australia in the Barossa Valley. Philippe decided to push further the organic farming to the Biodynamic, and straight away made a few wines without the addition of sulfur.

Returning to manual labor is one of the biggest challenges Phillipe faced when embarking on the path of biodynamic farming. More demanding processes that are not always mechanizable meant returning to forgotten practices with traditional tools such as pickaxing to prevent stubborn plants gaining a foothold in the vineyard. Nourishing the soils naturally involves working the land with regular plowing to maintain biodiversity in the microbial life of the soil.
During the vinification, Phillipe strives to retain the life within the wine by maintaining the natural grape yeasts while technical processes such as filtering or adding chemicals are banned.