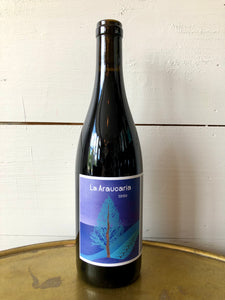 Grower: Dolores Cabrera Fernandez
Region: Canary Islands, Spain
Grape Varieties: Listan Negro
Viticulture: Organic
Category: Red
Size: 750ml
The illustrious Greek author Homer describes a place in his epic poem "The Odyssey" called Elysium. It is "where the sea gives fresh life" and where notable men go to rest in the afterlife. He goes further to call Elysium "a place where men live a sweet and peaceful life, without snow, harsh winters, or rain, but a perennial cool air, born of the breath of the zephyrs that the ocean exhales in a musical breath." It has been said by many that the inspiration for this mythical paradise was taken from a visit to the Canary Islands, the home of Dolores Cabrera Fernández - a woman making wines so truly distinctive that we can imagine the mythical gods resting in their afterlife, sipping on Listán Negro and gazing out over the vast sea with the imposing Pico de Teide in the background. Her passion and soul rests in her centenarian vineyards, vines with such noble beauty that it is easy to envision Dolores in her own paradise, where the vegetables abound, fresh goat cheese is always at the ready, and a stirring and profound glass of Listán Negro awaits.

Dolores studied viticulture at the Escuela Capacitación Agraria in Tacoronte (East of La Orotava) and worked at Bodegas Monje as the head viticulturist for 10 years. In 2014 she decided to make her own wines, naming her project "La Araucaria" for a type of evergreen tree found in the Canary Islands, and specifically for the very large tree just outside her cellar that is depicted on her labels. Her husband Pedro helps out in the cellar, and a team of women (she believes women are more deft at picking grapes) help her with the harvest.
​
The stately old vines she works with are the great loves of her life, and you can see the delight on her face when she steps out among them. Her cellar, which was the first to ever be built in what is now the DO Valle de La Orotava, looks out over the Atlantic Ocean and her extraordinary vineyards. Most vines are trained in the cordón trenzado (braided cord) method, where vines snake out of the ground and the canes are braided together and supported by posts to facilitate better airflow (mildew is an issue due to the humidity); the braids of the oldest vines can reach between 14 to 22 meters in length. This unusual style is only found here in La Orotava on the northern slopes of Tenerife - the largest of the seven Canary Islands. This Denominación de Origen is important to Spanish history: in the 15th Century it was one of the first areas on the island to be planted with grapes. The Spaniards fought for over 100 years to gain control of the islands, and agriculture quickly became an economic staple. The Canary Islands are renowned for their fertile soil, and wine became a major export (mostly to England), long before their other two major exports, bananas and potatoes, entered the game. The DO Valle de La Orotava was established in 1995 and encompasses vines from sea level to 800m in elevation; it is noted for its volcanic soil intermixed with clay and elevated humidity. This unique terroir gives wines from La Orotava a trademark earthiness and an unusual texture not found in wines elsewhere on the island. There are about 700 hectares planted in the DO, primarily to Listán Negro, the indigenous red varietal that (to our knowledge) has no genetic relation to any other grapes on the planet.  

Dolores works with four separate vineyards within the DO close to the pueblo of La Perdoma and named for their respective towns. She has worked with many of these vineyards, which are all in the cordon trenzado style, for over 25 years. There is the vineyard of La Haza with 100 year old vines at 300 meters, and Montijo which are her youngest vines at 50 years of age. Hacienda Perdida and San Antonio both contain vines of 100+ years of age and are in the 450-500m range. She ferments each vineyard separately, the harvest dates tend to differ, and is studying the nuances of each vineyard as it relates to her wines. She currently makes a red wine, a white wine, and a rosé.

Dolores Cabrera is a passionate farmer. She is actively trying to get all other farmers in La Orotava to convert to organic farming and is evangelical in her crusade. She has a small organic vegetable garden adjacent to the winery, where she often picks lunch right out of the ground. There might be grilled calabacin (squash), salt boiled papas (potatoes), or grilled piña (corn), served before the main course of a gorgeous whole fish that was caught that morning just off the coast, or savory goat stew (the main livestock on the island). There will be a variety of mojos, typical Canarian pepper sauces, mixed with herbs from her garden. When sitting with Dolores over a meal like this, it is easy to see why the ancient Greeks found a mythical happiness in a place like Tenerife. It is also easy to believe that an ideal afterlife, if it exists, looks a little something like this.  

This concept of Elysium has a counterpart in Greek Mythology: the Asphodel Meadows. It is an afterlife where indifferent and ordinary souls go to rest and is a land of neutrality and apathy.  The Meadows are certainly no place for Dolores Cabrera, or her thrilling and vibrant wines.

La Araucaria Tinto is from Dolores' centenarian Listan Negro vines from her San Antonio vineyard which sits at 450 meters in Valle de La Orotava.  The grapes were harvested by hand and deposited in stainless steel tank for 12 days of whole-cluster carbonic maceration without temperature control, then destemmed and further macerated on their skins for 7 days. Finally, the wine was pressed to finish fermentation and rest for 6 months in stainless steel tanks before bottling without fining or filtering and with only a minimal addition of SO2.