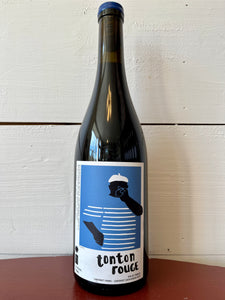 Producer: Vincent Wallard, Tonto/Cuatro Manos
Region: Chouzé-Sur-Loire, Loire Valley, France
Varietals: Cabernet Franc & Cabernet Sauvignon
Viticulture: Organic, Biodynamic
Category: Red Wine
Size: 750ml bottle 
"In 2015, after 6 years in Argentina working with natural winemakers on a project called Cuatro Manos, Vince has settled back in the Loire Valley, in Chouzé-Sur-Loire. He's purchasing fruit from winemakers of his persuasion. Namely those who aren't using any additives in their vineyards or cellars. His main focus is on Chenin and Cab Franc from the Loire valley, but he's working now with some Grolleau and Gamay (from the Beaujolais) as well.
Vince's cellar is in Berrie. If you know the tiny village, it's probably from his very rock n roll neighbor, François Saint-Lô. If not, we're just a small drive away from Puy Notre Dame in Saumur. In any case, Vincent is a negociant in the truest sense. He's got an incredible space cut into the side of a limestone hill where his projects and experiments have homes in little caves and meandering corridors.
Vince has a keen sense for his fermentations and a sort of frank way of speaking about them. He knows where any given barrel is at, and exactly how to nudge them into a place that he likes. Much like his esteemed neighbor (and his band of "dog punks"), Vince's wines feel hand-made. Visiting a winemaker like this is a reminder that terroir is more than just the microclimate and soil type where the grapes are grown. It's more than native communities of yeasts and bacteria too. There's a harried but exuberant method to all of Vince's madness, and when the team finally got to meet him, something about the wines clicked. Everything suddenly made sense. That mixture of wildness but ancient complexity was sort of right in front of us."
Purchased fruit from Jacky Ripoche, in Domaine des Noades, Saumur.
Organic, Biodynamic.  Harvested by Vincent and a small team by hand.  3 week semi-carbonic maceration, then 12 months in neutral oak.