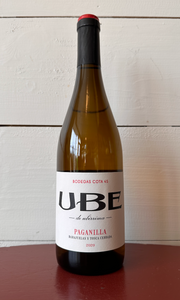 Producer: Cota 45
Region: Marco de Jerez, Andalucia, Spain
Varietals: 100% Listán (Palomino)
Viticulture: Lutte Raisonnée
Category: White
Size: 750ml
UBE is a natural wine project from prominent sherry maker Ramiro Ibáñez. Ibanez started making unfortified wines as a way to celebrate the unique albariza soil only found in southern Spain. This Paganilla is a substantial white wine with notes of cooked pear and a touch of salinity. Aged in American oak "botas" for 8 months, this wine would pair well with charcuterie, seafood, or fish stew.