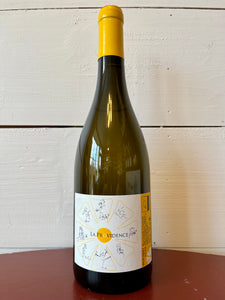 Producer: Domaine La Providence
Region: Provence, France
Varietals: Ugni Blanc, Clairette, Vermentino
Viticulture: Organic
Category: White Wine
Size: 750ml bottle
 For over 20 years, Jean Benoit and Bénédicte Comor have dreamed of starting their own estate. They'd even gotten close a few times: first in the Beaujolais, Saint-Véran and Pouilly-Fuissé then in Limoux. From false starts and dashed hopes, opportunity struck in 2016: located in the village of Lambesc, about 30 minutes North-West from Aix-en-Provence, a property called La Pomme had become available. The couple, originally from the area, instantly fell in love with the old farm house and 18 hectares of vines.
 From the beginning, JB and Bénédicte wanted more than an organic conversion, hiring famed biodynamic consultants Lydia and Claude Bourguignon. In addition to the conversion (the estate is now certified organic), JB quickly starting ripping out vines to replant three hectares of indigenous Provençal grapes and is planning to rip out an additional five hectares including all of the estate's Cabernet Sauvignon. 
After five years honoring their inherited contract with the cave cooperative, in 2020 Jean Benoit was able to vinify a small amount of rosé and a scant 2000 bottles of a delicious red wine called "La Providence". From a small makeshift cellar in their barn, roughly 20 times more wine was vinified in 2021, an atypical and rainy vintage that led to blocked maturations and low concentration. Grapes were hand-harvested and fermented with native yeasts in various vessels (fiberglass, stainless, concrete) but mostly in old Burgundian barrels. The barrels saw two bâtonnages a day and were racked after malo; depending on volatility levels, sulfites were added to some but not all vessels. It's unclear what blends will come out this complicated first vintage, but from what we've tasted the goal is to make elegant, structured but not over-extracted reds that break the regions' conventions while (perhaps by) respecting the terroir. Everything will be bottled in Vin de France, perhaps not so crazy in our world but pretty damn ballsy in the ultra-chic, celebrity winery milieu of 2020's Provence.