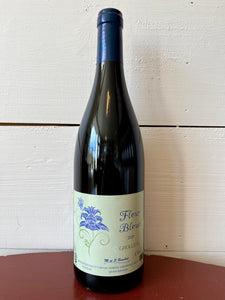 Producer: Matthieu & Sylvanie Bouchet
Region: Loire, France
Varietals: 100% Grolleau
Viticulture: Biodynamic
Category:  Red 
Size: 750ml
In 1990, Matthieu and Sylvanie Bouchet took over this 6-hectare family-owned domaine situated in the La Salle locality. The domaine has been worked using Biodynamic practices since 1962 by François Bouchet, Matthieu's father and one of the founding fathers of biodynamic. They have decided to continue this biodynamic approach in the vineyards, in order to stay true to the domaine's family roots, within a well-balanced, healthy farm environment. They work in harmony with the seasons in a protected natural environment, surrounded by wildlife. They work with nature to produce wines that can be enjoyed by all, even though some years are definitely easier than others! The soils are composed of clay-limestone. The wines are aged in oak barrels in cellars of Tufa, the same limestone that was used to build the Loire châteaux. The grapes are vinified and bottled at the domaine.
A fascinating wine from one of the oldest biodynamic pioneer of the Loire. Funky but accessible, easy to drink but not lacking interesting and elegance.  As the name suggests, an intense perfume of lily and dark, night-blooming flowers emerges from the glass. Strawberries, raspberries, orange peel and hibiscus on the palate, as well as herbs and white pepper. The tannins are fine and the finish long.