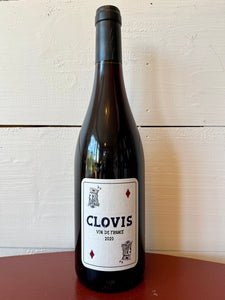 Producer: Clovis
Region: Piolenc, Southern Rhône, France
Grape Varieties: Syrah, Caladoc, Merlot
Viticulture: Certified Organic and Biodynamic
Category: Red 
Size: 750ml
Located in Piolenc, just outside Châteauneuf-du-Pape, the CLOVIS is an elegant yet energetic Vin de France with red fruit accented by alluring floral notes crafted from estate-grown Grenache, Merlot, and Syrah. Clovis is a delicate and fruity expression of Vin de France from the Southern Rhône. The vinification is very gentle in term of extraction to offer some velvety tannins and a fresh expression of red fruits and spice.