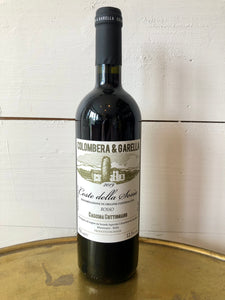 Grower: Cristiano Garella
Region: Coste della Sesia, Piedmont, Italy
Grape Varieties: Nebbiolo, Croatina, and Vespolina
Viticulture: Organic
Category: Red
Size: 750ml
300 million years ago, a volcano created the raw material for seven tiny but geographically complex appellations collectively known as Alto Piemonte, an area about two hours North-northeast of Barolo and Barbaresco, literally at the 'foot' of the Alps. After years of abandon, this once great bastion of Italian wines is now being revitalized by a few key producers. If you haven't started exploring this area, you're missing out on the glory of Nebbiolo when combined with local varieties, as well as, a study in the area's unique soils.
Our friend Cristiano Garella, native wünderkind, is one of the master-keys of the area. He's helping wineries here appreciate and reinvest in the vineyards and cantine. Colombera & Garella, as the name suggests, is his most intimate contribution among the many wineries he collaborates with. The Colombera part is Giacomo, Cristiano's long-time friend, and Giacomo Colombera's father, Carlo, who's been growing grapes in the area since the early 1990s. Colombera & Garella's winery and vineyards are mostly in the Bramaterra appellation, though they've ventured into the yellow and red-ochre sands of Lessona as well.*
At 350-400 meters, Bramaterra and Lessona's soils are distinctly acidic, quite different from Barolo and Barbaresco's basic soils. These acidic soils produce wine with lower alcohol than you find nowadays in the Langhe, and give the wines a ferrous, sanguine minerality. These are wines whose structure seems to come from minerality (as slippery as that word can be) more than from tannins.
Just as in other great growing areas with varied soil, one can immediately taste the difference between Bramaterra and Lessona: Bramaterra's volcanic soil is composed of crumbly red-brown rocks made from porphytic sand crystals. These wines have a muscular fruit, and a deep, chiseled minerality. There's something rough yet charming around the mineral edges, sort of like approaching papà Carlo in the vineyards when he gives you a bear hug.
Lessona still has acidic soil as well, but here you see a marine sand that's yellow or red-ochre in color. Lessona's fruit is svelte, with a delicate, etched minerality – think wild strawberries and their popping seeds.
The cuvée of the different varieties reinforces the above taste profiles. Each appellation has its own guidelines. Colombera & Garella's Bramaterra has 80% Nebbiolo, 10% Croatina, and 10% Vespolina. The Croatina gives that dark fruit; the Vespolina, spice and briskness. Lessona is mostly the Nebbiolo that we all know as nobile, with a 5% touch of spicy Vespolina.
* C&G's soil shown in pictures above, from left to right: Bramaterra's volcanic soil, composed of crumbly red-brown rocks made from prophetic crystal; Lessona's red-ochre marine sand; Coste delle Sesia's is a yellow-ochre marine sand.