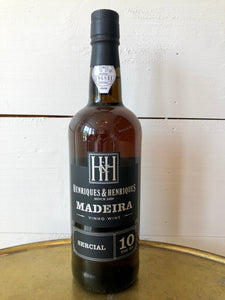 Grower: Henriques & Henriques 
Region: Madeira
Grape Varieties: Sercial
Viticulture: Sustainable
Category: Fortified Wine, Madeira
Size: 750ml
It might be said that the history of Henriques & Henriques is the history of Madeira itself. Legend has it that Infante Dom Henriques planted the island's first vines in 1425. These vines gave fruit to one of the "first families of Madeira" and in the process sunk deep roots which Henriques' descendants and successors continue to draw upon in guiding H&H today.
João Joaquim Gonçalves Henriques founded the firm in 1850 as a partidista, supplying wine to other merchants from extensive Henriques vineyard holdings while continuing to amass significant stocks of old wines in the family cellars. In 1925, Henriques & Henriques began to bottle and export Madeira produced entirely from their own vineyards—an anomaly amongst producers on the island. Today, Henriques & Henriques is led by CEO and winemaker Humberto Jardim, one of Madeira's great visionaries and ambassadors. The firm continues to source some of its needs from its own vineyards, most notably from a terraced, 10-hectare vineyard at Quinta Grande—the single largest on island, replanted in 1995.
Against the tides of urban development, H&H have been in the forefront of vineyard planting and preservation of Madeira's noble varieties: Sercial, Verdelho, Boal, Malvasia and Terrantez, while simultaneously playing a key role in the reappraisal of the underrated Tinta Negra, recently releasing an unprecedented 50-year expression. Likewise, H&H's age-statement varietal wines are widely regarded as benchmark articulations: always 100% of the stated varietal (e.g., Verdelho), the blend always composed of stocks well in excess of the statement requirement (e.g., 15-year).
Finally, H&H continues to boast an impressive selection of pre-1925 "Garrafeira" (vintage) and Solera bottlings originating in the Henriques' family cellars. Without question, the most celebrated of these is the "Heavenly Quartet"—four legendary wines from the late 18th century—that are amongst the most transcendent expressions of Madeira extant today. To taste any one of these is, quite literally, to "drink history" itself, as well as to share in the accumulated wisdom—of family, family-owned vineyards and old stocks—that continue to define Henriques & Henriques today.
Energetic and appealing, the H&H Sercial 10-Year is the firm, polished style of the house: full, deep and suave, with the balance and concentration for which H&H is known. Well-calibrated acidity, mineral, saline and wood elements from the bold savor of dried apricot, lemon zest and spiced almond in route to a long, tapered finish.