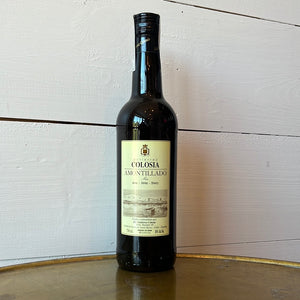 Grower: Guiterrez Colosia
Region:  El Puerto de Santa Maria, Spain
Grape Varieties: Palomino Fino
Viticulture: Sustainable
Category: Fortified Wine, Sherry
Size: 375ml
"Since 1838, Gutierrez Colosia has been situated in the mouth of the river Guadalete in the town of El Puerto de Santa Maria.  The quality of the Gutiérrez Colosía wines is guaranteed by careful ageing through a process known as 'criaderas y soleras', following the region's tradition. The Gutiérrez Colosía wines are produced in 'bodegas', or wine cellars, with an architectural style known as 'Nave Cathedral' or cathedral like warehouse. These are buildings of significant height and numerous arcs which allow for a better exposure of the wines to the influence of the special climate of the Region. The Gutiérrez Colosía Bodegas are heirs to a long viticulture and wine producing tradition. Their first Bodega was built in 1838 and it has been preserved almost as such to this day. After different ownership, it was acquired by Mr. José Gutiérrez Dosal in the 1920s, the late great grandfather of this last generation of the Gutiérrez Colosía family. In 1969, the Gutiérrez Colosía family bought the ruins of the Palace of the Count of Cumbrehermosa -Cargador de Indias, which also included a wine cellar. Upon these ruins two additional cellars were built. In 1997, Gutierrez Colosia made the transition from almacenista to bottling their own sherries.
Sherry Notes: Caramel color with a nose of toasted almonds, figs, and burnt sugar. High-toned, dry but rich on the palate with earl grey, dried fruit, and great acidity. This 100% Palomino is balanced and elegant with a long finish. Serve cool.