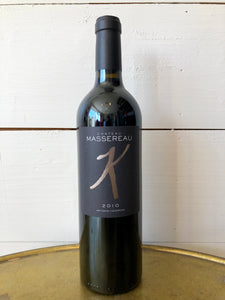 Growers: Olivier, Corine & Carole Andrieu
Region: Barsac, Bordeaux
Grape Varieties:  Cabernet Franc, Cabernet Sauvignon, Merlot, Petit Verdot
Viticulture: Practicing Organic
Category: Red
Size: 750ml
Château Massereau, situated at Barsac at about 30 kilometers from Bordeaux, was built in the 16th century and acquired by the Chaigneau family in 2000. The estate extends over 19 hectares, 10 planted (6 600 - 7 000 plants/hectare) in the Barsac, Graves and Bordeaux Superieur appellations.
Jean-François, who chose by passion to become a wine-maker, and Philippe, his brother, sales manager, have taken on a real challenge. Quality and authenticity are the key-words of the estate to give birth to fine, natural, authentic artisan wines.
Extreme vine-growing and wine-making methods, with respect of the terroir, of the vines, of the grapes on the 3 terroirs of Barsac, Graves and Bordeaux Superieur : ploughing (sometimes with horses) (no chemical weeding), disbudding, thinning out of leaves, selection of bunches as well as the harvest are manual and regarding the grapes of Barsac, they are pressed in an old wood press operated manually.