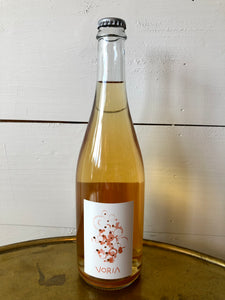 Grower: Marco Sferlazzo,
Region: Camporeale, Sicily, Italy
Grape Varieties: Catarratto, Grillo
Viticulture: Biodynamic, Organic
Category: Sparkling, Orange, Pet-Nat
Size: 750ml
Under the artistry of owner/winemaker Marco Sferlazzo, Porta del Vento is making some of the most exciting, wines in all of Sicily and beyond.
Marco is a dedicated winemaker who came to winemaking after a long career as a pharmacist in Camporeal, in the province of Palermo. The vines that would become the Porta Del Vento estate were being tended by a larger, corporate company who decided to pull up aging Perricone and Catarratto vines to plant Merlot or something. Marco found this distasteful and decided to purchase the vines himself and convert all the vineyards to organic and biodynamic agriculture.

The tiny, Porta del Vento winery sits 2000 feet above Palermo, near the village of Camporeale, an area of Sicily where nature can be very harsh. The vineyard extends for eighteen hectares on the hills of the area of Alcamo doc and Monreale doc. Sandy soils on sandstone crust. Vineyards are mainly cultivated with "alberello" system and are almost fifty years old, exposed to the north following the steep slopes of the land. At 600m elevation, on incredibly steep slopes, this area is known for constant, brutal winds, blowing through the vineyards. These ever-present winds, along with the large, diurnal, temperature range, allow for wines of great concentration, character, low alcohol and racy acidity. The 100% Certified Organic and Biodynamic wines, which adhere to a strict, non-interventionist approach are produced unfiltered, so as to not deprive them of the elements that make them unique. Porta del Vento's wines are uniquely expressive, conveying emotion and terroir.