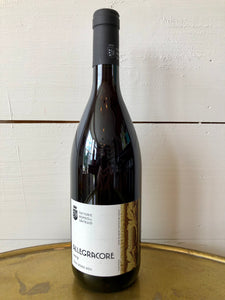 Grower: Fattorie Romeo del Castello
Region: Mount Etna, Sicily, Italy
Grape Varieties: Nerello Mascalese, Nerello Cappuccio
Viticulture: Organic
Category: Red
Size: 750ml
The Romeo Farmhouses of the Castle, for centuries a family possession, are now managed by Rosanna Romeo del Castello and by her daughter Chiara Vigo. The Farms enjoy a happy position, being at the confluence of three natural parks: the Etna Park, the Park of the Nebrodis and the Alcantara River Park. A few steps from the medieval town of Randazzo, the property is located at about seven hundred meters above sea level and borders the Alcantara river. No coincidence that this town with its beautiful landscapes has deserved, in the past, the name of Contrada Allegracore.
The volcanic eruption of 1981 buried a large part of the property under the lava, which was suited to hazelnut and olive groves. Even today the extraordinary spectacle of a lava flow remains, which miraculously diverted its course in front of the old vineyard, saving the rural buildings of the late eighteenth century. The set of buildings constitutes a characteristic closed courtyard overlooked by the Church, the manor house, the farmhouses, the cellars with large chestnut barrels, the traditional Palmento with different elevations, the warehouses and shelters for the animals.
The current ownership extends for over thirty hectares, destined to vineyard, pereto, olive grove and forest of oak and chestnut trees. The cultivation of native varieties is favored, such as the Nerello Mascalese grapes and the Nocellara dell'Etna olives. The vineyard in the Etna DOC area consists of three hectares of centuries-old vineyards and ten hectares planted in 2004. The property also boasts a thousand-year-old olive tree, a true monument of nature, in whose trunk a centuries-old oak tree spontaneously developed. Cultivation is carried out according to organic methods, respecting nature and ethnic traditions.