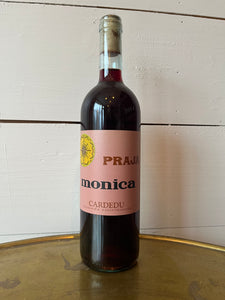 Grower: Marco Sferlazzo,
Region: Sardinia, Italy
Grape Varieties: Monica
Viticulture: Biodynamic
Category: Red
Size: 750ml
Sergio Loi is a 4th generation traditional Sardinian producer, whose family winery from the early 1900s has always practiced no chemical farming and minimum intervention in the cellar. The Cardedu [car-DAY-do] vineyards are located on the island's sparsely populated southeast coast, where soils are crumbling granite near the coast and schist in ragged-dry cliffs around Jerzu.
Sardinian producers are now catching up in popularity to those of Italy's other large island, Sicilia. One difference that remains is that Sardinia remains more 'lost in time.' Cardedu balances on that edge of being  traditional but also thoughtful, especially considering today's warmer climate. In the last few vintages – extremely hot and dry – Cardedu has made lower alcohol wines by picking earlier and careful vineyard management. The result, thankfully, isn't 10% alcohol overtly hipster juice without terroir, Sergio says; it's just wine that tastes more like the cool vintages he enjoyed in the '70's.
The local Monica grape is fermented with native yeasts in cavernous cement tanks under the house. A zingy light bodied red wine: think spicy-underbrush, herbal notes, and just a touch of fruit. Toasted fregola pasta with small clams, canned sardines, meaty olives. Good with a slight chill, good with a luver.