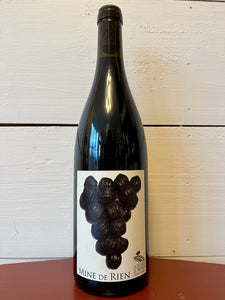 Producer: Les Deplaudes de Tartaras
Region: Collines Rhodaniennes, Northern Rhône, France 
Grape Varieties: Mornen Noir
Viticulture: Certified Organic & Biodynamic
Category: Red
Size: 750ml
When Pierre-Andre and Anne started to farm in the out of the way Coteaux-Du-Gier somewhere between Lyon and Clermont-Ferrand wine wasn't a priority, instead it was grains, fruits and dairy cows, as well as a tiny production of wines.  This kept going until the early 2000's when a drop in milk prices forced them to rethink a few things, and they decided to take some of their most interesting land and convert it to vineyards. What didn't change was the commitment to be farmers first, to work the land honestly and responsibly and have the product reflect that, be it wine or milk.
Made from 100% Mornen Noir. Once cultivated in the Loire and the Rhone, this grape exists today in only limited plantings. Low alcohol and high acidity make for an easy-to pair-red wine.  This is the second vintage of this ancient grape variety. A woodsy nose with wild blackberry and dark minerality. This energetic wine is smooth, schisty with the right amount of grip. Unique and absolutely delicious.  Made as a tribute to the mine workers and wine they drank in the mines.