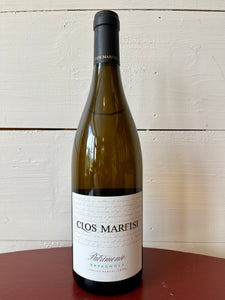 Grower: Clos Marfisi
Region: Corsica, France
Grape Varieties: Vermentino
Viticulture: Organic
Category: White
Size: 750ml
This entirely stainless steel aged Vermentino is an excellent introduction to the richness, the minerality, and the poise of Corsican white wines. There's a floral nuance that Vermentino (known in Corsica as Vermentinu) is famous for, and an unmistakeable gentle saltiness to the finish of this wine that makes it such an excellent, refreshing partner to food (and a noble wine to sip and contemplate). 
The Patrimonio vineyard site that this wine hails from might easily be mistaken for a lunar landscape given the broken limestone chunks strewn all about, were it not for the fact that the vines are planted on such steep slopes. That, and the teeming Mediterranean shores not far away. The vineyard sites have never seen a single chemical input, and are now certified organic since the 2018 vintage. Winemaker Mathieu Marfisi is also the President of the Patrimonio AOC, and is determined to lead Corsican wine in a new direction while diligently observing tradition. Native yeast fermentations and minimal sulfuring, along with a desire to valorize Corsican traditional varieties, are all part of this commitment.