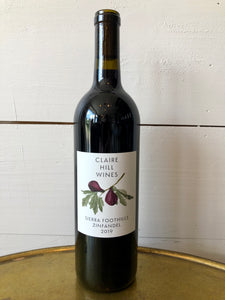 Grower: Claire Hill
Region: Sierra Foothills, CA, USA
Grape Varieties: Zinfandel
Viticulture: Organic
Category: Red
Size: 750ml
​The moment I fell in love with wine, I was 19 years old and living in Paris. My roommate was the son of a family friend, his father a fellow Socialist student organizer alongside my great-aunt in the 1960s in Paris. The wine was a white Burgundy raided from my boyfriend's father's cellar. My art history professor had given me the advice that the best way to learn French would be to find a French boyfriend, and so I started dating a boy I met in a bar my first week, whose family happened to own a large Champagne house and some vineyards in Burgundy.

Growing up in California, red table wine was a common fixture at dinner. It was utilitarian, mass-produced stuff and hardly inspired one to think about where exactly it had come from. It wasn't until I took that first sip of white Burgundy that I got it: that wine could speak to a place. That it could inspire aesthetic reverence and wonderment.

I've always been one to wonder why things are the way that they are. Obsessed with mythology as a child, I started college studying microbiology, assisting in yeast genomics research that sought to understand alcohol excretion pathways in the cell. My philosophical musings about yeast were somewhat out of place though, and I found the art history department more willing to indulge my questions. Art history concerns itself with asking "why does it look the way it does," and "what does it mean."

Like art, wine is a human product, the result of social and cultural movements, but it is also a product of nature, shaped by the weather and geography, and yeast turning grapes into wine.

I worked my first vintage in 2014 at Unti in Dry Creek, Sonoma, before moving to Rhys in the Santa Cruz Mountains for the 2015 harvest. In 2016, I started pruning at Mount Eden Vineyards, also in the Santa Cruz Mountains, before heading off to France to work with Éric Texier in the Rhône Valley. From 2016 through 2020, while launching my winery back home in California, I worked for Farm Wine Imports where I had the absolute honor to learn from my winemaking idols in France, Spain, Italy, Germany, and here in California.
North Ponderosa Vineyard is an organically farmed vineyard located in North Yuba County, up near Grass Valley. I was thrilled to work with this site as it has incredible natural acidity and excellent farming. This bottling comes from a block of 23 year old vines of Dupratt clone Zinfandel.
Beyond the vineyard being farmed organically, the mowing and weeding is done by some extremely cute sheep. Unlike a tractor passing through to mow weeds between and under the vines, the sheep don't compact the carefully cared for vineyard soils as they munch grasses and fertilize the vineyard.
After we picked the fruit on September 3rd, 2019 at 23.1 brix, the clusters were carefully sorted in the winery to remove any raisins or unripe berries. Because Zinfandel is such an uneven ripener, it's not unusual to find raisins and green unripe berries on the same cluster. By removing these, the wine's raspberry fruit comes through, unmuddled by the stewed prune flavors that one finds in some Zinfandels (from the raisins). The grapes saw a long, cool fermentation (2 weeks' maceration, temperature never above 75°F) to prevent extracting anything harsh and bitter. The grapes were pressed while still a bit sweet (at 4.3 brix) and finished primary fermentation in stainless steel before going down to used French oak barrels where it aged for 18 months to soften and develop.
With the very low pH at this site (3.03pH), no sulfur was added until just before bottling (15ppm). Due to this very low pH, secondary fermentation never fully finished, and so this wine was bottled with a small amount of malic acid (<1g/L) and filtered for stability.
Excellent with pizza dusted with red pepper flakes, cured meats, and Bolognese, this wine hearkens to some of my favorite Barbera blends from Emilia-Romagna. In all of my wines, I aim for delicate, perfumed aromatics and structure. Here, notes of ripe pomegranate and red currant and ripe pomegranate balance with grapefruit oil and fresh thyme.