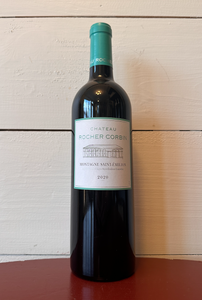 Producer: Château Rocher Corbin
Region: St. Emilion, Bordeaux 
Grape Varieties: 75% Merlot, 25% Cab Franc
Viticulture: Organic
Category: Red
Size: 750ml
Domaine de Rocher Corbin is a former farmstead of the Château Corbin, fiefdom of the Lord of Corbin in the Middle Ages. This property was acquired in the 1880s by Charles Durand. For four generations, Rocher Corbin has been passed down from father to son, with the same passion for vines and wine.
Since 1986, Philippe Durand has devoted himself to the modernization of the property, with the greatest respect for the terroir, the environment, and the traditional practices of vine cultivation.
Rocher Corbin, a 10-hectare (25.95 acres) property, stretches along the west coast of the Tertre de Calon, one of the highest points in the region, in the heart of the Montagne-Saint Emilion appellation, a few kilometers from Saint-Emilion, on the right bank of the Dordogne. This prime location, with great sun exposure, and well-draining clay-limestone soils make it a great terroir for the grape varieties (Merlot, Cabernet Franc and Malbec) of the estate. The average vine age is 45 years with old vines ranging from 80 to over 140 years old.