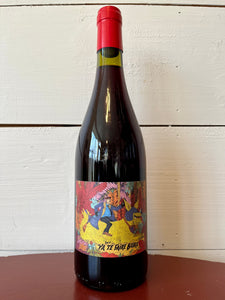 Producer: Château Lestignac
Region: Southwest France 
Grape Varieties: Merlot & Cab Franc
Viticulture: Organic & Biodynamic
Category: Red
Size: 750ml
A fun, easy drinking red wine coming from a 400 year old domaine? You may think pas possible but we say OUI! Mathias & Camile Marquet took over the family domaine to make their own wines inspired by nature and the local environment. This merlot & cab blend shows the best of both grapes- soft and round on the palate with a vegetal finish. Goes down easy. Va te faire boire means "it will make you drink" and we agree. Pairs well with food & parties!
Chateau Lestignac is a family domaine dating back to 1617. After recent generations selling their grapes to local negociants, Mathias Marquet and his wife Camile took over the domaine to make their own wines. They are inspired by nature and the environment, farming their 30 acres of vines organically and biodynamically with an aim to improving life in the soil and the region. Work in the cellar is equally natural: only indigenous yeasts for fermentation and no additives at all other than a minimal use of sulfur as needed.