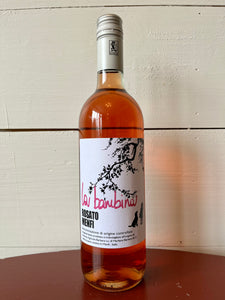 Grower: Cantine Barbara
Region: Menfi, Sicily, Italy
Grape Varieties: Nero d'Avola
Viticulture: Organic
Category: Rose
Size: 750 ml bottle
In the sea side town of Menfi, where the Belice River naturally flows into the deep blue Mediterranean Sea, in the South-western part of Sicily is where you will find Marilena Barbera. Menfi is a hidden paradise: sandy dunes, dwarf palms, wild anise, rich culture, bright sunshine and a fresh cooling breeze. Proprietor and winemaker Marilena Barbera was reared in this garden of Eden, her family has been grape producers for three generations. She is a passionate woman, commitment to a sustainable viticulture that thoroughly respects the natural environment where she live and works with her family and her many, many dogs. While she still grows the grapes that her father chose, Marilena embraces the regions grape varieties with vigor: Inzolia, Grillo, Perricone, Nerello, Alicante and Nero d'Avola, these are hers.
Marilena Barbera's white wines tend to have an unmatched vibrant, zestful salinity. The mild winters and warm dry summers paired with the intense temperature ranges between night and day impart tasty ripe berries with a touch of sweetness which smell of the land and sea. Marilena uses only indigenous yeast for fermentation- selected and reproduced in the vineyards. The wines do not contain GMO and have very low levels of sulfites. No tricks, no illusions.
La Bambina is dedicated to strong women, to their power and energy, to their tireless motivation in fighting for their beliefs, to their talent for problem solving despite difficulties and complications.
It's the wine that I made against all advises that there was no future for such a rosé in the market and beyond expectation, at the winery and outside.
It is a pleasant expression of Nero d'Avola, which grapes are harvested at night to preserve their freshest aromas, and to give birth to a very exciting wine that reflects the personality of Menfi's terroir.