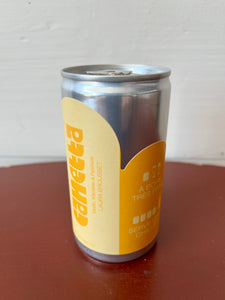 Producer: Canetta, Laura Brousset
Region: Penedes, Catalonia, Spain
Varietals: Xarel-lo, Parellada, Macabeu 
Viticulture:  Organic
Category: White 
Size: 187 ml can 
Canetta are one of the latest group of legends we're super excited to be working with! This innovative bunch are taking incredible wines from natural wine MVPs and presenting them to the world in stunning, perfectly portioned cans for optimum enjoyment in any setting. Vin Vivant En Canette / Living Wine In a Can. 
Canetta's White edition is a lively & fruity blend of Xarel·lo, Macabeu & Parellada by Laura Brousset with a delicate hint of white flowers, a gorgeous acidity and lovely balance. It's mega versatile juice that adapts to all settings & situations, a unifying wine.