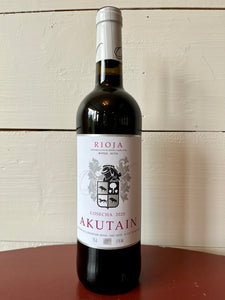 Grower: Akutain
Region: Rioja, Spain
Grape Varieties: Tempranillo
Viticulture: Organic
Category: Red
Size: 750ml
The story of Akutain begins over four decades ago, when Rioja's storied estates were consistently producing Spain's most highly sought-after wines. At this time, Juan Peñagaricano Akutain was an engineer in nearby Basque Country, working for a company that sold cooling units to wineries. Juan developed personal relationships with many Rioja bodegas and spent time tasting and learning in the region, most notably in the cellars of two of the great traditionalists of yesteryear – CVNE and La Rioja Alta. These experiences gave him the confidence to plant his first vineyard in 1975, located 5km west of Haro at Rioja's epicenter. With a desire to work in the chateau style, Juan acquired a horse stable adjacent to the vineyard and converted it into a small bodega. Akutain has been making wine here in this small but highly functional bodega ever since, with the goal being "to control the whole process from vineyard to bottle." They strive to produce wines in the traditional style set forth by the Grand Bodegas, but on a much smaller scale, and most importantly to singularly reflect the wind-swept, high elevation terruño of Rioja Alta.

From Fonzabala, the bodega's youngest vineyard that was planted in 1990. The vineyard is at 580m, faces northeast, and is on clay-calcareous soils

La Manzanera: planted in 1975, faces north at 490 meters elevation. Akutain's first vineyard site, iron-rich clay-calcareous, 80% Tempranillo, 19% Garnacha and around 1% Viura.
 
Cihuri: planted in 1982, faces north-east at 485 meters elevation, light brownish soil, clay-calcareous, 90% Tempranillo, 10% Garnacha.
 
Gembres: planted in 1986, Akutain's highest elevation vineyard, nestled against the mountains at 600 meters elevation, north facing, iron-rich, red clay-calcareous with chunks of limestone, 85% Tempranillo, 15% Garnacha.
 
Fonzabala: planted in 1990, faces north-east at 570 meters elevation. located between Gembres and Cihuri, yellow chalk, clay-calcareous, 100% Tempranillo.

​Juan's son, the young and ambitious Jon Peñagaricano, is now handling the day-to-day operations. Before coming back to the estate, Jon worked for 7 years as an export manager for a vineyard equipment company. In his youth, Jon spent as much time in the vineyards and winery as he could – pruning vines, cleaning barrels, bottling, labeling, etc. These days, Jon is leading the estate into the 21st century. Akutain has begun converting their highest elevation vineyard, Gembres, to organic viticulture, with the rest of the estate following suit. In 2015 Akutain made its first cosecha wine, as well as their first cask-aged rosado, a wine that reminds us of the great Rioja roses of yesteryear.
 
Harvesting is by hand, all fermentations are with natural yeasts in fiberglass vats (with no temperature control), and all aging is in used American oak. Due to the small size of the cellar, they do not rack the wine from barrel to barrel, but rather decant the wine periodically out and then back into the same barrel. They bottle age for a significant amount of time in natural caves that the Akutains built under the first vineyard they planted back in 1975. This is traditional Grower Rioja at its best!
Crianza  The Akutain Crianza is comprised of mostly Tempranillo with Garnacha, is fermented in fiberglass vats with native yeasts, and then raised for 1 year and 9 months in used American oak barrels, with an additional year in the bottle before release - far exceeding the Rioja D.O.'s aging requirements for Crianza wines. A very good value in traditional Grower Rioja.