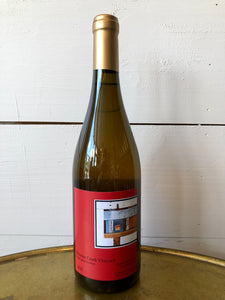 Grower: Bloomer Creek Vineyard
Region: Finger Lakes, New York, USA
Grape Varieties: Chardonnay, Gruner Veltliner
Viticulture: Organic
Category: White, Orange
Size: 750ml
Bloomer Creek has two parcels of Gewürztraminer - Morehouse Road Vineyard with vines that are 26 years old and Auten Vineyard with 7-year-old vines. At harvest, winemakers do two passes. The first occurs early in the season and the grapes are picked for acidity. The second pass comes later when the grapes are riper. Both batches, the earlier picked and the later picked, spend time fermenting on the skins. There is  no set recipe as the eventual blend depends on the unique characteristics of every vintage. Grapes are spontaneously fermented on the skins generally for four and a half weeks Blended together, these fermentations offer a juicy core supported by earthy, dried citrus peel and tannin. Unfined and unfiltered, with minimal S02 only at bottling.
Chardonnay (60%) and Gruner Veltliner(40%), co-fermented until dry on skins for three weeks. Gruner Veltliner provides crisp acidity and an herbaceous note to the blend, complimenting the melon and tropical fruit quality of the Chardonnay. Another delicious orange wine from the Bloomers!