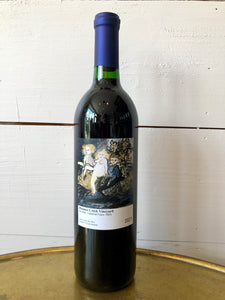 Grower: Bloomer Creek Vineyard
Region: Finger Lakes, New York, USA
Grape Varieties: Cabernet Franc
Viticulture: Organic
Category: Red
Size: 750ml
In 1982 Kim Engle and Deb Bermingham purchased a thirty-acre farm in the Finger Lakes region, ten acres of which they planted to a variety of cool climate grapes. They named the vineyard Bloomer Creek and for the last three decades they have meticulously farmed it using organic methods.
They employ no herbicides, no irrigation, fruit is hand-harvested, and only natural native yeasts are used for fermentation. They often utilize whole clusters in their winemaking, including the whites, extended lees aging, and they allow fermentations to progress at their own rate without using temperature control.
In a part of the world where winemakers don't often take risks, Bloomer Creek seems afraid not to and the results are wonderful. Both their whites and their reds are incredibly distinctive, age-worthy and expressive of the place and time in which they were produced. That place is the Finger Lakes, and Bloomer Creek may be the single most unique, and compelling voice in town.
100% Cabernet Franc from three vineyard sites - Barrow, Morehouse Rd., and Auten. The Vin d'Eté Cab Franc is made in a light and fresh style for early consumption. Whole clusters are placed in one-ton fermenters, then covered with crushed grapes and allowed to ferment spontaneously. The grapes are pressed to stainless steel tanks to complete fermentation and bottled after five months. Give these a slight chill and enjoy.