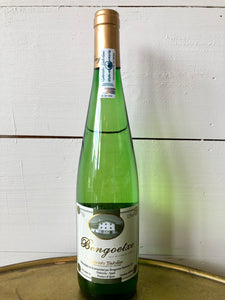 Grower: Bengoetxe 
Region: Basque Country, Spain
Grape Varieties: Hondarrabi Zuri and Gros Manseng
Viticulture: Organic
Category: White
Size: 750ml
Distinctive wines, wines that speak of their terruño, come from lovingly tended and organically farmed grapes.  It is this nurturing philosophy, rare in the Basque Country, a region dominated by industrial farming and winemaking, which drives Iñaki and Rosa Maria Etxeberria to produce Bengoetxe.

We first met Iñaki and Rosa Maria after they released the 2009 vintage, a wine that floored us for its stone fruit, beeswax, and mineral depth.  Was this Riesling?  Chenin?  Basque wine?   How did this wine have such lovely intensity without oak or obvious tricks?  From Getaria, really?

It turns out that the Etxeberria's baserria has a long history and unique terruño to go along with the single wine they produce.  Perched high up on a clay slope, their ancient farmhouse has been handed down to the family for generations. The locals have long affectionately nicknamed it, Bengoetxe, which means 'come home' in Basque.  After both phylloxera and civil war hit their area, the vineyards were ripped out.  It was only in 2001 when the Etxeberria's replanted their land with the native Hondarribi Zuri and Gros Manseng, called Iskirita Zuri Handia (say that 5 times!) in Basque. Organic from the beginning, certification came in 2007, the first producer in the Basque Country to do so.  

One of the few producers in the D.O. that's not located right next to the coast, and in or directly near the town of Getaria.  Using historic evidence of pre-phylloxera plantings that vineyards were inland, Olaberria, Iñaki fought for years to be included in the D.O.  Finally he persuaded the Consejo Regulador- the governing body that controls membership, winegrowing, and winemaking rules for Getariako Txakolina- to grant them D.O status in 2008.

Bengoetxe's terruño gives a different face to Txakoli. Their village Olaberria is a little warmer, especially in the summer, and the soils more clay dominated than their coastal neighbor's. Their grapes are riper, sturdier grapes. 

Thankfully, the Etxeberria's do not intend to make a copy-cat Txakolina. Classic and slow wild yeast fermentation takes place in small 3.000 litros vats, located in their home garage, then the wine is raised on the lees up to a year with no batonnage.  SO2 levels are kept to a minimum and because all CO2 "is natural" (not injected) the wine does not often show the spritzy character of other Txakolis from Getaria.

This is a "Real" Basque Country wine to pair with Serrano ham, sheep's cheeses, poultry as well as fresh seafood.  We can't help but feel like this was how the Txakolis of the past tasted before comercial yeast, chemicals and heavy filtration took hold of the region.  With Bengoetxe, we feel we have unearthed an authenthic and treasured puzzle piece of Basque winegrowing history.
95% Hondarribi Zuri and 5% Gros Manseng, from a single certified organic 3.5 ha vineyard planted on a moderately steep slope of mostly clay, located in the highlands of the province of Gipuzkoa, this is fermented with wild yeasts in small 3,000 liter steel vats, and raised on the lees for up to one year.  It is bottled unfiltered and unfined. All CO2 is natural.