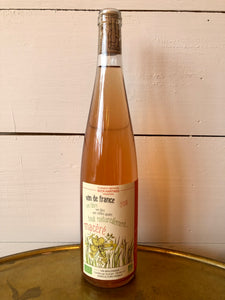 Grower: Beck-Hartweg
Region: Alsace, France
Grape Varieties: Multiple Grape Blend
Viticulture: Biodynamic
Category: Skin Contact Orange, White
Size: 750ml
I met Florian in 2017 at his family's ancient cellar in the middle of a medieval-looking town. A truly incredible place with foudre more than 200 years old, tools and trinkets that must have been older. Florien, on the other hand, was a young, enthusiastic, and incredibly sharp man who talked me through the history of this 11 generation production, while underplaying his own contribution to the tradition. He is something of an agricultural scholar whose prolific output is not limited to wine alone. You can see him on youtube explaining his vines and their cultivation here. Of course you may know the wines already from Chambers Street Wines, where Eben has been directly importing the wines for years.
"To guarantee the soil's health, we maintain a diverse green cover. We let the wild plants grow in our vineyards, without mowing neither ploughing them. Then we push it down on the soil using a rolofaca. With this method, we create a natural mulching which will preserve some humidity and a cool temperature in our soils during the summer season. This mulch will then decompose an enrich our soils with humus. This humus is capital for the texture and fertility of the soil, helped by the fauna."