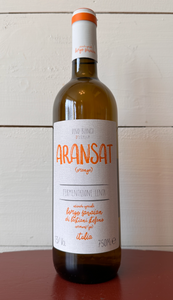 Producer: Borgo Savaian
Region: Friuli-Venezia Giulia, Italy
Varietals: Pinot Grigio & Sauvignon Blanc
Viticulture: Sustainable & Practicing Organic
Category: Orange
Size: 750ml
An extremely savory, and nutty bottling from this Friulian producer. From the Italian side of the Slovenian border, Nicola Biasi blends Pinot Grigio and Sauvignon Blanc after 90 days of skin contact for this wild, affordable orange wine. Not at all fruity, this wine exhibits notes of bruised peach, tea, and cashews. Sustainably farmed and practicing organic.