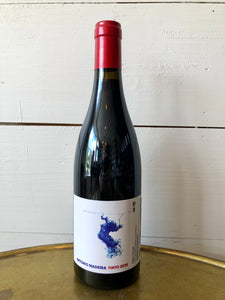 Grower: Antonio Madeira
Region: Dao, Portugal
Grape Varieties: Touriga Nacional and Alfrocheiro
Viticulture: Organic
Category: Red
Size: 750ml
Despite its enormous potential, central Portugal's Dão is a region that remains out of the limelight while slowly losing its heritage of old vines and native grape varieties. Antonio, who is French of Portuguese descent, has his roots in the foothills of the Serra da Estrela in Dão and since 2010 has been combing this sub-region looking for that old heritage or, as he calls it, the Grands Crus of the Dão Highlands. He found a series of old vineyards that are distinctive because of the authenticity of their grape varieties along with the characteristics and nuances of their granite soils and sun exposures. It is in these highlands that Antonio believes lies the heart of Dão.
He's farming organically and working with too many grape varieties to name. All of his wines are field blends and cofermented. He believes that if they were planted that way, it was for a reason. In the cellar, he's as natural as it gets, limiting additives to a minimum.
• A dizzyingly extensive field blend of some 30 varieties, with leading roles from Alfrocheiro, Baga, and Jaen (Mencía)
• Hand-harvested on granite
• Spontaneous fermentation in open-top upright wooden vats
• Racked to used 225L barrels for 18 months then tank for another three
• Bottled unfined and unfiltered with minimal sulfur
• This is Antonio's flagship red and is emblematic of his expression of the Dão: fresh, drinkable, structured, elegant, and delicious