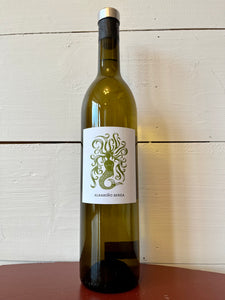 Producer: Adega Pedralonga
Region: Galicia, Spain
Varietals: Albariño
Viticulture: Organic
Category: White Wine
Size: 750ml bottle
"The Albariños from Pedralonga are equally dramatic (to Benito Santos), if showing more mineral and saline depth… both opulent and totally precise; it could kick the living crud out of a Sancerre"– Jon Bonné, San Francisco Chronicle.
In 1982 Francisco Alfonso planted this 7.5 hectare "Cru" on a pure granitic hillside, ten miles fromthe Atlantic Ocean. For years they sold the wine locally and unlabeled but in 1997 they founded thewinery as it is known today, named Pedralonga which means "big rock" in Gallego, a reference tothe huge chunks of granite sticking out of the soil. It is now run by Francisco's son Miguel.
 The vineyard has always been farmed organically and in 2007 they began integrating biodynamic practices. Miguel is fond of the Galician saying "A man who does not watch the moon does not reapthe harvest." and they closely follow the phases when making farming decisions. They plow only when needed in order to combaterosion caused by the wet climate as well as promote the vineyard's natural biodiversity.
In the cellar Miguel does as little as possible. He doesn't de-stem the albariño grapes and he does partial whole cluster fermentationon the red blend. He's only using native yeast and doesn't block malolactic fermentation with the belief that the natural process is partof the vintage variation. The wines are all aged on the lees for extended periods before being bottled.