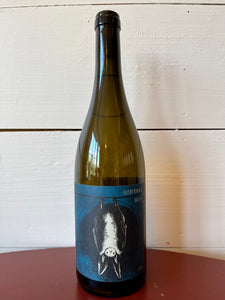 Grower: 2Naturkinder
Region: Franken, Germany
Grape Varieties: Muller-Thurgau, Silvaner
Viticulture: Organic
Category: White, Skin-Contact Orange
Size: 750ml
Michael and Melanie on this wine's story: "In 2014, we took over a Müller-Thurgau-vineyard from a colleague. There is a neat cottage in the middle of it which just looked like a perfect home for bats. Together with local bat hero Christian Söder, we developed the idea of a cycle: we get guano from local bat colonies – a wonderful fertilizer. In the vineyard, we have several bat boxes installed to offer opportunities for those lovely animals to hang out. In return, we give a share of the revenue back to the bats via the Landesbund für Vogelschutz. The bat (Fledermaus in German) on the label is the grey long-eared bat which has become very rare in our area. It's also incredibly cute and we want to help it stay around."
Vineyard: Shell limestone. The grapes come from 2NK's own biodynamic vineyard in Repperndorf; in difficult years, they add some grapes from their friend, biodynamic grower Christian Deppisch whose Theilheim vineyards have the same soil.
Manual harvest. The Müller-Thurgau was stomped, pressed and fermented & aged in stainless steel, the Silvaner was destemmed, crushed and pressed the next day before fermenting and aging in big oak until the following August. No fining, no filter, no sulfur addition.
This wine is pure and juicy! Floral with hints of stones.