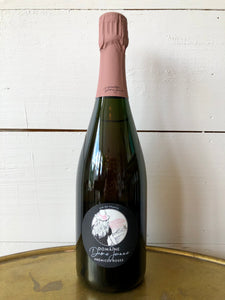 Producer: Domaine Dame Jeanne
Region: Molesme, Burgundy, France
Grape Varieties: Pinot Noir
Viticulture: Practicing Organic
Category: Sparkling, Rose
Size: 750ml bottle
Jeanne Piollot grew up at the southern edge of Champagne in the Aube, closer to Burgundy than to the Côte des Blancs or Reims. Working side by side out of the same domaine, her parents created two separate ranges of Champagnes: Piollot Père et Fille, which comes from vineyards on her father's side, and Marie Courtin, which comes from her mother's family vineyards.

And so it's only natural that Jeanne would collaborate with her parents under the same umbrella to create her own label, Dame Jeanne. With the prohibitive rise of Champagne prices over the last generation, acquiring new vines in Champagne seemed elusive, but the family decided to purchase a small domaine in Molesme, just 20 kilometers away over the border into Burgundy. By law, the wines have to be vinified and bottled in Burgundy, so Jeanne took over the winemaking and farming with her partner, Gennaro de Miccoli.

The vineyards of Molesme are well known for producing excellent sparkling wines, as they are located so close to the border of Champagne. Advice from Champagne was of course quite welcome, and Jeanne and Gennaro followed similar farming practices used by the family for decades, abstaining from any herbicides, pesticides, or synthetic chemicals. However, in the cellar, Jeanne and Gennaro have their own vision for the wines they want to create. They use minimal extraction and sulfur to craft vins de soif that live somewhere between Chablis and Champagne.

Dame Jeanne has a double meaning in French. It translates literally to "Lady Jeanne," giving a tongue-in-cheek regal air to this rustic region, but 'damejeanne' is the word for the beautiful, large, round glass jars with a thin neck that have been used to transport and store wines and spirits since the Middle Ages.

Both the sparkling and still wines are equally compelling and are exciting new additions from this often overlooked and lost corner nestled between two famous regions.