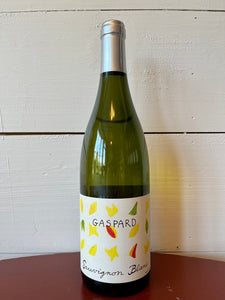 Grower: Gaspard
Region: Loire, France
Grape Varieties: Sauvignon Blanc
Viticulture: Organic
Category: White
Size: 750ml
The grapes are sourced from growers who work sustainably or organically across different vineyards in the Loire Valley, are fermented with native yeast, spend a couple of months on their fine lees and then undergo only light filtration and fining. The joyful labels are the creations of a Parisian artist that Jenny met there. "Gaspard" is a traditional French boy's name that means "bringer of treasure" – a fitting title for these easy-drinking gifts that keep on giving.
Vineyard is clay and limestone. The vines are between 10 and 60 years old, sustainable growing practices.

The grapes are pressed and then left to settle for 48 hours (débourbage). The must then ferments with indigenous yeasts. Aged in tanks, on fine lies for six months. Filtered, not fined.
Notes of freshly-cut grass, lemon verbena and lush exotic fruit make it irresistible to all Sauv Blanc lovers, no matter which region you're usually after. The wine is perfect on its own, or you can enjoy it with goat cheese, as the typical Loire Valley pairing goes.