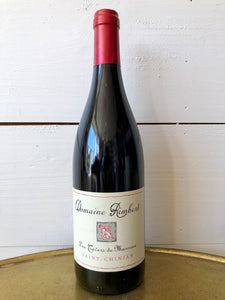 Grower: Domaine Rimbert
Region: Saint Chinian, Langedoc, France
Grape: Carignan,  Cinsault, Syrah, Mourvèdre
Viticulture: Certified Organic
Category: Red
Size: 750ml
Jean-Marie Rimbert was born at a mixed family farm in Provence and trained not as a winemaker, but as a general agriculturalist ("the vine is basically a small fruit tree, isn't it?" he jokes). Even after 40 years of making wine, he still proudly calls himself a paysan – a peasant, man of the countryside, and his down-to-earth farmer side also shows in his philosophy. The estate's vineyards have been managed organically since 2003 (certified 10 years later) – not primarily for the wine's quality, he says, but rather because "I want to cultivate in a way that doesn't damage the environment. I'm in it for the long term." 
He bought the estate in Berlou, a small village in the Saint Chinian area, back in 1996, and it was a rocky start thanks to the fact that his son Marceau was born at the beginning of the harvest, their very first at their own domaine. "I seriously don't remember how we managed back then. My brain goes blank when thinking about this period," Rimbert shakes his head when trying to recall the launch. What he does know is that he was seduced by the village's unique schist soils and steep slopes (so unique that they give the village the right to its own AOC, the Saint Chinian Villages Berlou). "I like the fine notes of dried rose petals that schist gives to wines," he confirms, "and I insist on cultivating vines on the hillsides, as it yields wines that are more pleasurable, lower in alcohol, and easy to digest.
Rimbert's wines indeed sport an irresistible fruity character. Both the Travers de Marceau, the domaine's first red wine named after Rimbert's son Marceau born during those challenging beginnings, and its more robust, "serious" Mas au Schiste sibling (the name is a double entendre on the soils and the French pronunciation of the word "masochist") offer freshness and elegance that you don't always find in the sun-drenched Mediterranean. This easygoing style is even further showcased in Cousin Oscar, a light red made of Cinsault and Pinot Noir grapes that is hyper-popular for both its easy-drinking character and vintage-looking label. Jean-Marie made the collage himself ("just took some scissors and old posters"); the phrase "on se l'arrache" ("we're fighting over him"), originally meant as a jibe to the eponymous relative popular with ladies, now works as a fitting comment on the wine's success.
The secret of this succulence isn't based on, as one might think, an early harvest ("I abhor the thought of starting vintage in August – we're just not ready"), but in a very gentle extraction in the cellar that privileges finesse over body. The wines are then aged in tanks or old barrels, lightly fined, filtered (Jean-Marie enjoys a "cleaner" style of wine, especially in the whites and rosés), and lightly sulfured at bottling. Besides the wines made from the domaine's own grapes, he also runs a négociant business making easy-going wines from purchased grapes farmed sustainably by nearby growers, hoping to convert them to organic in the near future. After all, he's in it for the long term…
Making of: Grapes are hand-harvested and destemmed, then spontaneously fermented with only gentle extraction of the cap. The wine ferments and ages in tanks, in order to keep its freshness, and undergoes slight filtration and fining,  before being bottled using gravity and a little bit of sulfur.
Tasting Note: Ruby in the glass with purple highlights. The nose is packed with crushed red berry, plum, blueberry and notes of saddle leather backed by crushed stones. The palate is supple as it delivers red and black fruit flavors backed by silken minerality and a deft touch of acidity.
Pairing: Serve with grilled meats, aged cheeses, hearty stews and spicy pasta dishes. Or just lightly chilled on its own .)