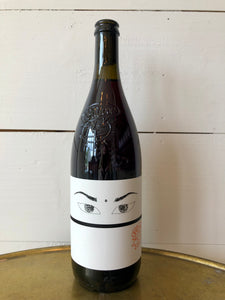 Grower: Dirk Niepoort (Nat Cool) 
Region: Douro, Portugal
Grape Varieties: Baga
Viticulture: Practicing Organic
Category: Red
Size: 1 Liter
Nat Cool is the brain child of Dirk Niepoort. Besides Dirk's activities as owner of Niepoort Wines and Ports, he also owns a small wine distribution company in Portugal.
He created Nat Cool as a response to a market (both in Portugal and abroad) that wanted fun, easy going, Naturally-made wines that could be enjoyed every day - at home, by-the-glass in restaurants, out on a fun picnic, etc. The project started in the appellation of Bairrada, working with the indigenous varietal, Baga. As a rule, this varietal produces, big, dark, tannic reds, but Dirk found a way to produce fresh, easy, glou-glou Baga in One-Liter bottles with 12% alcohol and minimal Sulphur added.
Bingo…he was onto something!
Now Nat Cool includes several wines!
The first extention was a white wine from Vino Verde. But not just any Vino Verde. In essence, it is a "Pet Nat", but at very low pressure, sort of like a Txakoli. Here, the wines are bottled with a touch of sugar that is left to ferment inside the bottle to create the light fizz. It is actually an historic method that was practiced in the 19th and early 20th centuries in the region. Since the wine is not disgorged, there are also some lees in the bottle. You can let the sediment settle in the bottom of the bottle, or as Dirk likes to, mix it all up for a yummy, leesy, complex version. Alas, Vino Verde with a fun, adventurous attitude!
The next addition was Primata. This is a red wine from the Douro. Dirk challenged his cellar master Luis Pedro to make a Douro red to fit in the NatCool line. Primata is his baby. The high elevation, largely north-facing vineyards give it freshness and crunch. It is foot trodden in lagares where it continues to ferment and then finished in steel where it naturally stabalizes. This is a Douro red like you have never had!
We hope the Nat Cool spirit will continue to grow! But remember, here are the NAT COOL RULES:
RULE NUMBER ONE…THERE ARE NO RULES!
ALWAYS RESPECT THE FIRST RULE
LESS IS MORE
COOLER = LESS EXTRACTION, LESS MESS
AUTHENTIC, COOL ATTITUDE
ONE LITER BOTTLE
COOL PRICE
THE INCREDIBLE LIGHTNESS OF BEING