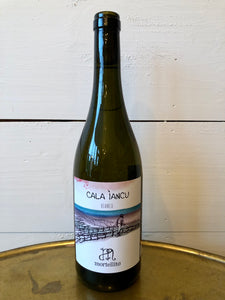 Grower: Mortellito
Region: Sicily, Italy
Grape Varieties: Grillo, Catarratto
Viticulture: Organic
Category: White
Size: 750ml
Val di Noto sits in the southeast corner of the Sicilian triangle, dipping down to the latitude of North Africa. In spite of the warm climate, the local varieties (especially Grillo and Frappato) and white limestone soils are capable of producing balanced wines with tension and moderate alcohol. Dario Serrentino, after years of selling off his grapes (to naturalistas Frank Cornelissen, Lamoresca, inter alia), started to vinify and bottle his own wines in 2014 as Mortellito. Dario is a naturalista as well, but he insists on making clean wines that taste extreme only in their deliciousness. He works his family's 25 hectares, 15 of which are under vine; the rest are a mix of ancient olive groves and heirloom almond varieties. A plate of pasta al pesto rosso (sun-dried tomatoes, toasted almonds, olive oil, garlic, salt) with a glass of Dario's rosso 'Calaniuru' (Frappato with a dash of Nero d'Avola), flatters several of the fruits of his farm. His wines have a tempered hedonism, a mix of 'taking' in the sun (as the Italian idiom goes), and then 'taking a bath' in the salty-cool sea.