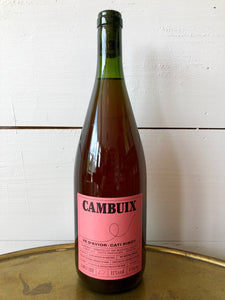 Grower: Cati Ribot
Region: Mallorca, Balearic Islands, Spain
Grape Varieties: Escursac, Callet, Callet Negrella, Esperó de Gall, Gorgollassa and Mantonegro
Viticulture: Organic, Biodynamic
Category: Red
Size: 1 Liter
Cati Ribot is a 3rd generation winegrower making natural wines under the name Ve d'Avior ("from the past" in Mallorquin) in the town of Santa Margalida, in the northeast of Mallorca. Her family's background was in the farming of table grapes, almonds, and olives, but in the 1990s her father Jaume planted international varieties (Syrah, Chardonnay, Cabernet Sauvignon) with the goal of making wine. In 2004, Jaume built a sizeable bodega next to the vines, and Cati started working with her father in the vines and in the cellar. In the beginning, this was a solidly conventional affair, making the full-bodied red wines that Spain and Mallorca were known for at the time.

Working with her father, Cati grew more and more interested in wine, eventually leading to training as a sommelier in Barcelona in 2008 (she related that she used to take the first flight each morning to Barcelona and the last flight back to Palma every night during this training). Cati pointed to this as an important opportunity to expand her horizons beyond Mallorquin wine: she tasted wines from all over Europe and the world, analyzed them and their methods of production, and connected with the burgeoning Catalan natural wine scene. She brought back different ideas about how Mediterranean wine could taste, and different goals for the family bodega. As she took on a larger role at the winery from 2009, the winemaking and the farming began to change (organic certification was achieved in 2012), culminating in 2014 when she began employing biodynamic treatments in the vineyards, influenced and guided by Joan Rubió, an expert on biodynamic and organic viticulture from the Penedès.

As they improved the farming, Cati and Jaume also began to delve into the past of Mallorquin viticulture, planting old varieties in collaboration with the island's governing bodies in 2006. They were one of two producers to start planting new vines of ancient varieties like Escursac, the local Malvasía de Banyalbufar, Girò Ros and Prensal Blanc (and other, even lesser-known varieties like Callet Negrella and Vinater that remain unrecognized by the D.O. authorities in Mallorca). Gradually, some of these varieties that had been excluded from 'modern' or commercial winemaking in Mallorca were accepted by the governing organizations and included on the official register of Spanish grape varieties. Perhaps more importantly, Cati found that she enjoyed the wines that these varieties produced far more than the wines made from international varieties in Mallorca, and that they were suited to a different sort of winemaking. Harvests grew earlier and macerations got shorter as Cati explored the potential of grapes more suited to the Mallorquin soils, her own tastes, and especially the Mallorquin climate. Owing to Mallorca's long, hot, and sunny summers, the indigenous varieties tend to be late-ripening, drought resistant, and large-berried. These characteristics prevent them from becoming over-ripe and protect them during dry periods.

The most important of these varieties to Cati's story is the red grape Escursac. Large-berried and late-ripening, it tends towards the production of wines with moderate alcohol, delicate red fruit, and soft tannins. To our knowledge, Cati makes the only bottled varietal wines in the world from the grape, from 1.2 hectares of vines that she and her father planted in front of the winery in 2006. Her passion for Escursac led to the planting of another 5 adjacent hectares in 2020.

Cati's story took another important turn in 2019, as she took over the bodega her father had founded as Galmés i Ribot. Having already moved away from new oak and never having used any aggressive additives, Cati stopped employing sulfur in the winery, and Ve d'Avior was born. In the same year, she started working together in the bodega with Charlie Prymaka, who had a background in natural wine Terroir and Les Cave des Pyrene in London and with Evan Lewandowski and Scott Frank on the west coast of the United States. Their collaboration was a great success, and, by chance, it started to grow. In the same year, Eloi Cedó (of Chato Paquita & Sistema Vinari) was looking for a space to make his wines, and Cati welcomed him to work in their space at Bodega Galmés i Ribot. Jaume Prats joined this collection of Mallorquin natural winemakers in 2020.

Cati and Charlie have made changes to the winery itself, replacing large tanks suited to the production of conventional wines with smaller vessels, and brought in new ceramic tinajas. In the vineyard, they've replaced international varieties with more plantings of Escursac and Mantonegro, and with apple saplings drawn from indigenous apple cultivars, hoping to break with agricultural monoculture and to eventually make cider (which would make them the only cidermakers in Mallorca). A herd of the rare local red-skinned Mallorquin sheep keep the vigorous cover crops in check over the fall and winter months. The vineyard's Cal Vermell soils (iron-rich calcareous clays) are thriving, enriched by regenerative and biodynamic farming practices. The finca is now 80% indigenous grape varieties; Charlie and Cati were discussing their approach to replacing the last of the international varieties in November of 2021.

The culture at Cati's well-ordered and immaculate bodega is vibrant and inspiring, as she and Charlie and Eloi and Jaume experiment with newly revived grape varieties, natural fermentation methods, and novel vessels. They share vineyards and grapes, and work in distinct ways in the cellar while simultaneously embracing their collaborative environment and combined knowledge and perspective. While Cati's finished wines are mostly blends of grapes from multiple parcels, she ferments these separately, hoping to bring out the character of each site and each variety. And there's new ideas and dreams for the future, including collaborative experiments involving different techniques, like carbonic maceration, cofermentations of red and white grapes, and a novel approach to crafting methode ancestrale sparkling wines. It all lends the space an incredible sense of possibility: Cati's bodega is a collaborative workshop, the home base of four hardworking, innovative winemakers and farmers and the wellspring from which come some of the most exciting wines being made in Spain today – all hail the Queen of Escursac!
Ve d'Avior Cambuix A field blend of red and white grapes (Escursac, Callet, Callet Negrella, Esperó de Gall, Gorgollassa and Mantonegro) from Cati's own finca Son Llebre vineyard grown on Cal Vermell (the local iron-rich clay-calcareous) soils. This cuvee owes its existence to a severe storm near the end of harvest in 2020. The aftermath of strewn vines and broken branches reminded one of Cati and Charlie's friends of Cambuix – Mallorquin for bedhead – when they went out to harvest the remaining grapes. The grapes were destemmed and pressed (without skin contact) into stainless steel tanks to ferment, then rested in a mix of stainless steel and 500L used French oak barrels after fermentation. Bottled after 5 months, without any added sulfur (at any moment in the process), stabilization or filtration.